Back
Private aviation enters the AI era
May 24, 2022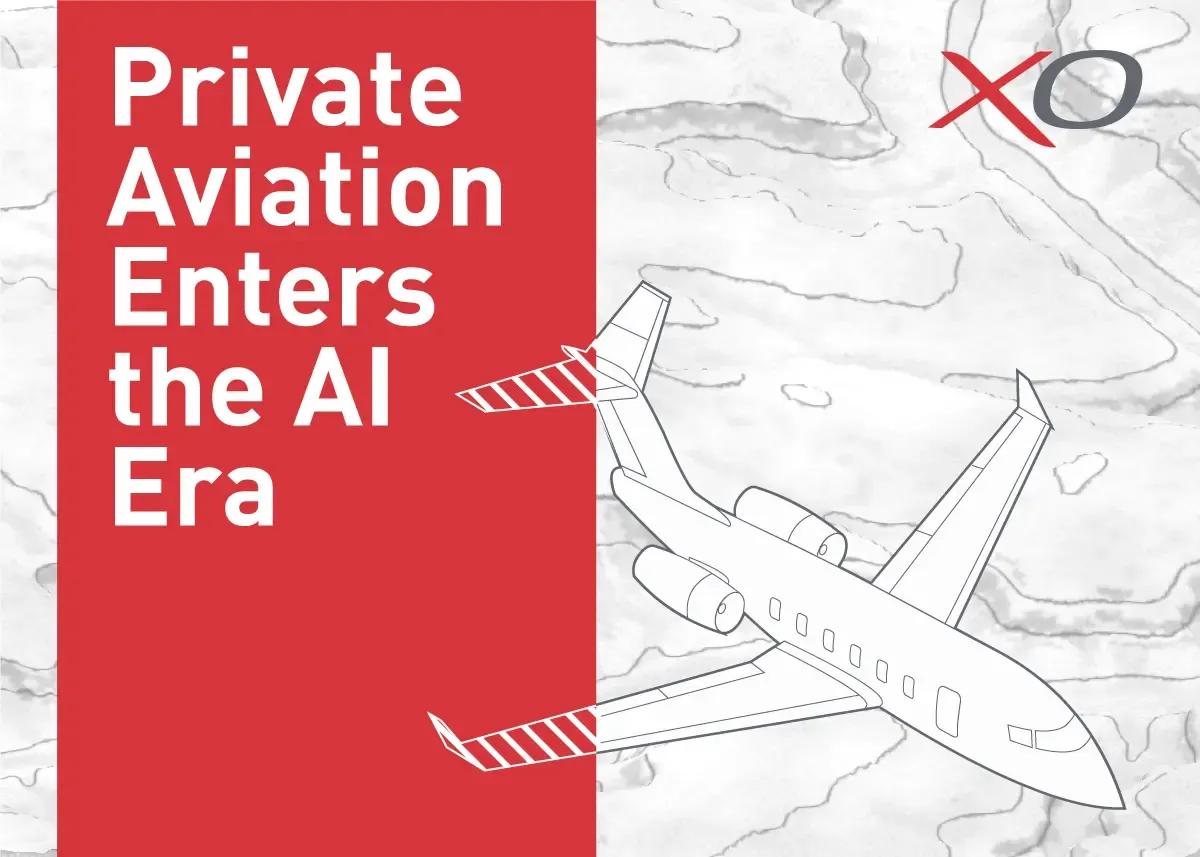 When most people think about private aviation, what goes through their minds is its unique experience – luxury, ultimate convenience,  enhanced productivity - and privacy and security.
What may not be apparent is that this industry is in rapid transformation. Those enduring benefits are still present but are augmented by powerful technologies that fully modernize private aviation. XO was formed to be a pioneering organization, bringing technology to this industry. These technologies - AI, machine learning, data design, and predictive analytics - create a more accessible and affordable future for private aviation. XO was the first to offer booking and shared flights with guaranteed pricing through a mobile app. It continues to lead by applying sophisticated technology to its over 350 leased, owned, and managed aircraft and a safety–vetted alliance fleet of more than 2,100 aircraft, covering the full spectrum of cabin classes. 
The XO platform is a sophisticated, complex suite of proprietary technology tools that continually monitor and manage occupancy, positioning, and demand. This has allowed XO to transform a legacy industry into one that is transparent, efficient, and accessible, making its membership classes and benefits more meaningful and valuable, thanks to the underlying architecture that links them all.      
XO's accomplishments are manifest across these four integrated and co-dependent operational, product and service areas.    
Aircraft Utilization
Floating Fleet
Instant Booking and Guaranteed Pricing 
Shared Charter
Aircraft Utilization
Rideshare companies have identified that cars in the US are parked 95% of the time. Companies like Lyft and Uber are changing that underutilization model by offering rideshare as a solution for ground mobility. Those companies are imagining what our world could look like if we found a way to take most of the cars off the road – less traffic, less pollution, and a need for less parking. This is nothing short of a transportation revolution.  
 XO sees the same opportunity for air transportation. In the private aviation space, personally owned aircraft fly roughly 250 hours per year. The Vista Members' fleet (formerly the XO Dedicated Fleet) flies more than 1,000 hours per year, increasing utilization four times. The platform allows XO to visualize and manage tens of thousands of flight hours per year, making XO private aviation charter roughly four times more efficient than private jet ownership.
Decreasing the need for private jet ownership and a more efficiently utilized fleet can provide services to those looking to fly private while passing on the benefit of lower fees and lower environmental impact to XO members and clients.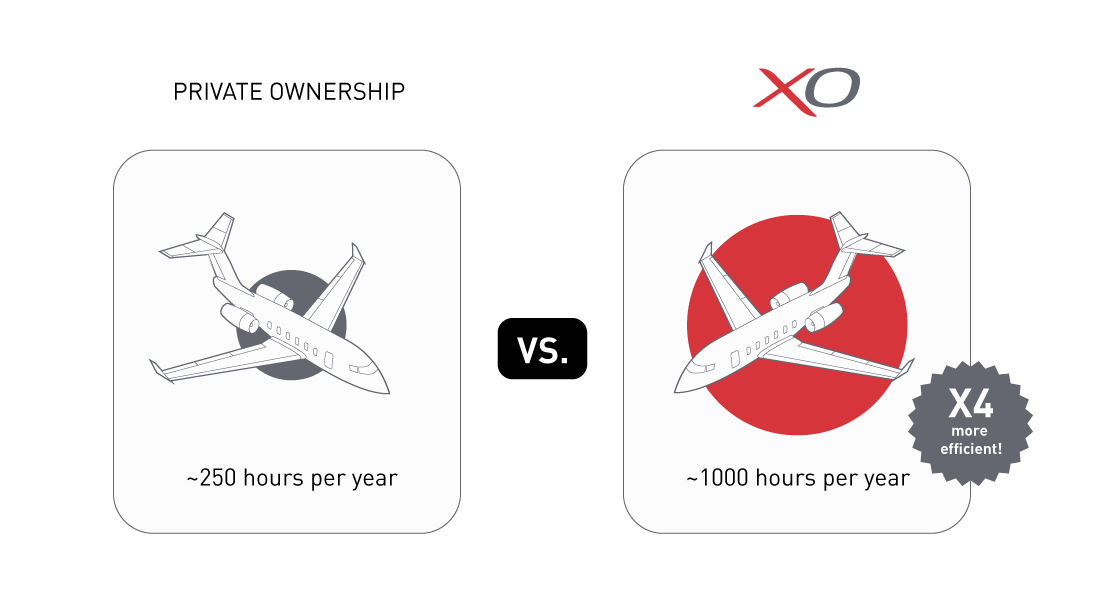 Floating Fleet
Car rental companies have developed highly efficient floating fleets, clusters of intelligently nomadic vehicles with no predefined pick-up or drop-off locations. Customers can pick up and drop off vehicles from locations that suit them best, increasing accessibility and efficiencies for the companies and their clients. 
Similarly, XO has driven innovation in the private aviation industry from a historic home-based approach to a floating fleet of aircraft, made possible by XO's predictive analytics, which optimizes routes, fleet, and crew.  The legacy model - in which the fleet has no choice but to return to the home base - creates massive inefficiencies where aircraft fly empty 50% of the time. XO's floating fleet model cuts this in half to 25%, increasing efficiencies and delivering on the accessibility and sustainability promise that is core to our mission.
These efficiencies benefit XO members and clients through prices that are more accessible and a fleet that emits less unnecessary carbon into the atmosphere. An illustration using the home-based approach where five passengers fly from New York to Seattle, with no passengers returning; the carbon impact is roughly 5M tons of co2 (tco2) per passenger. By managing a floating fleet, with the illustrated flight pattern below, carbon emissions can be reduced to approximately 75% to  1.25M tons of co2 (tco2) per passenger by flying to multiple cities with each leg efficiently managed from a location and occupancy perspective. In addition, all XO clients have the opportunity to seamlessly offset the reduced carbon emissions through our partners at South Pole, which provides the tools to achieve a low-carbon reality.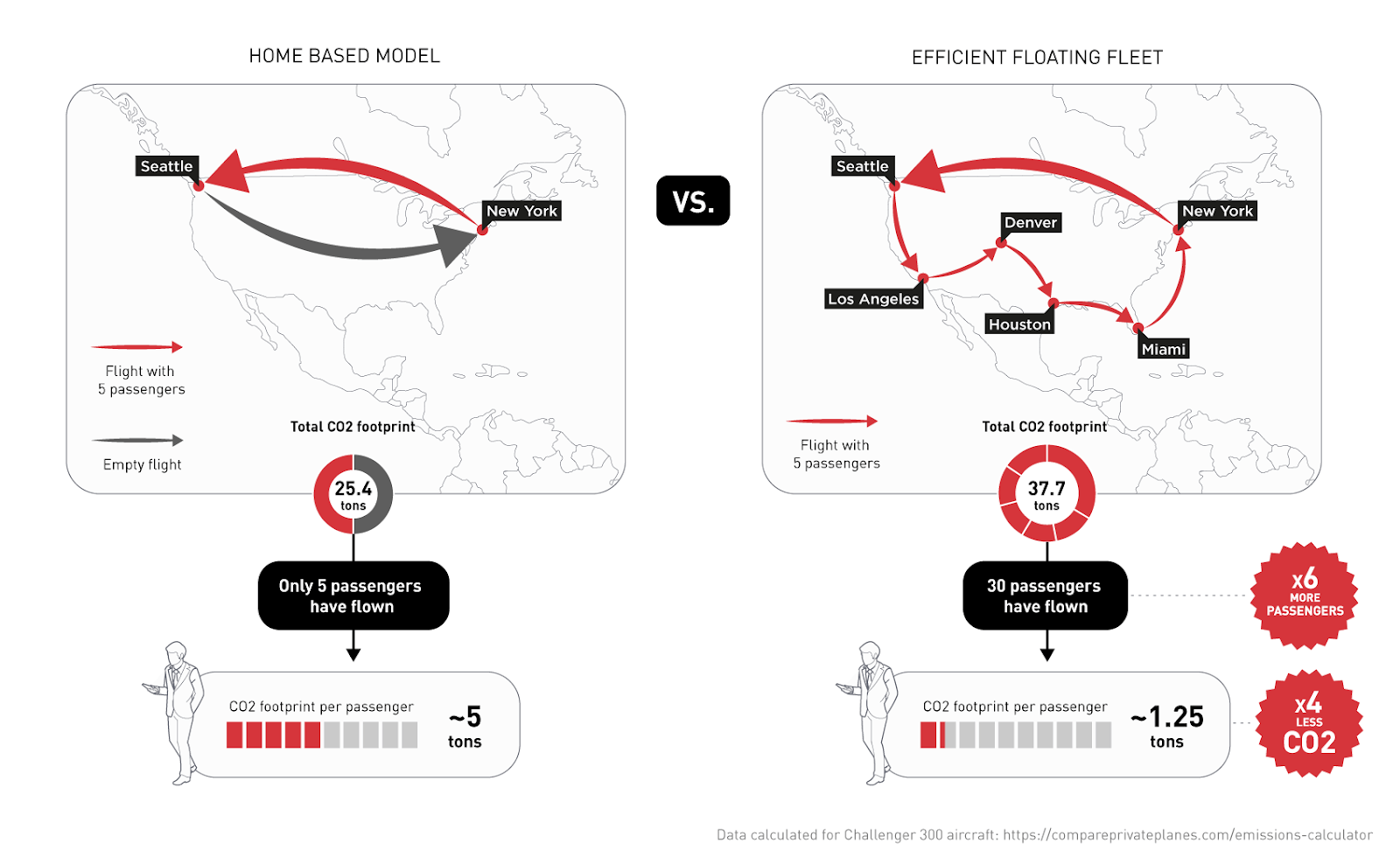 Instant Booking and Guaranteed Pricing
Typically, those looking to fly private and obtain pricing embark on a multi-day, multi-touch process to review options or receive what are only  "soft quotes" through digital platforms.  The process is time-consuming and frustrating, and the price is not guaranteed.
XO has reduced the process by more than 98%, delivering a start-to-booking experience that takes only seconds to complete. XO instantly analyzes multiple data sets that measure derived demand through various proprietary insights and computational processes.
For example, XO knows the history of the routes, what customers are searching for, and even events in each city that might drive demand. The technology looks for those correlations and generates mathematical insights. This technology allows XO members and clients convenient ways to search and instantly book seats with pricing that is based on demand and delivered instantly and guaranteed.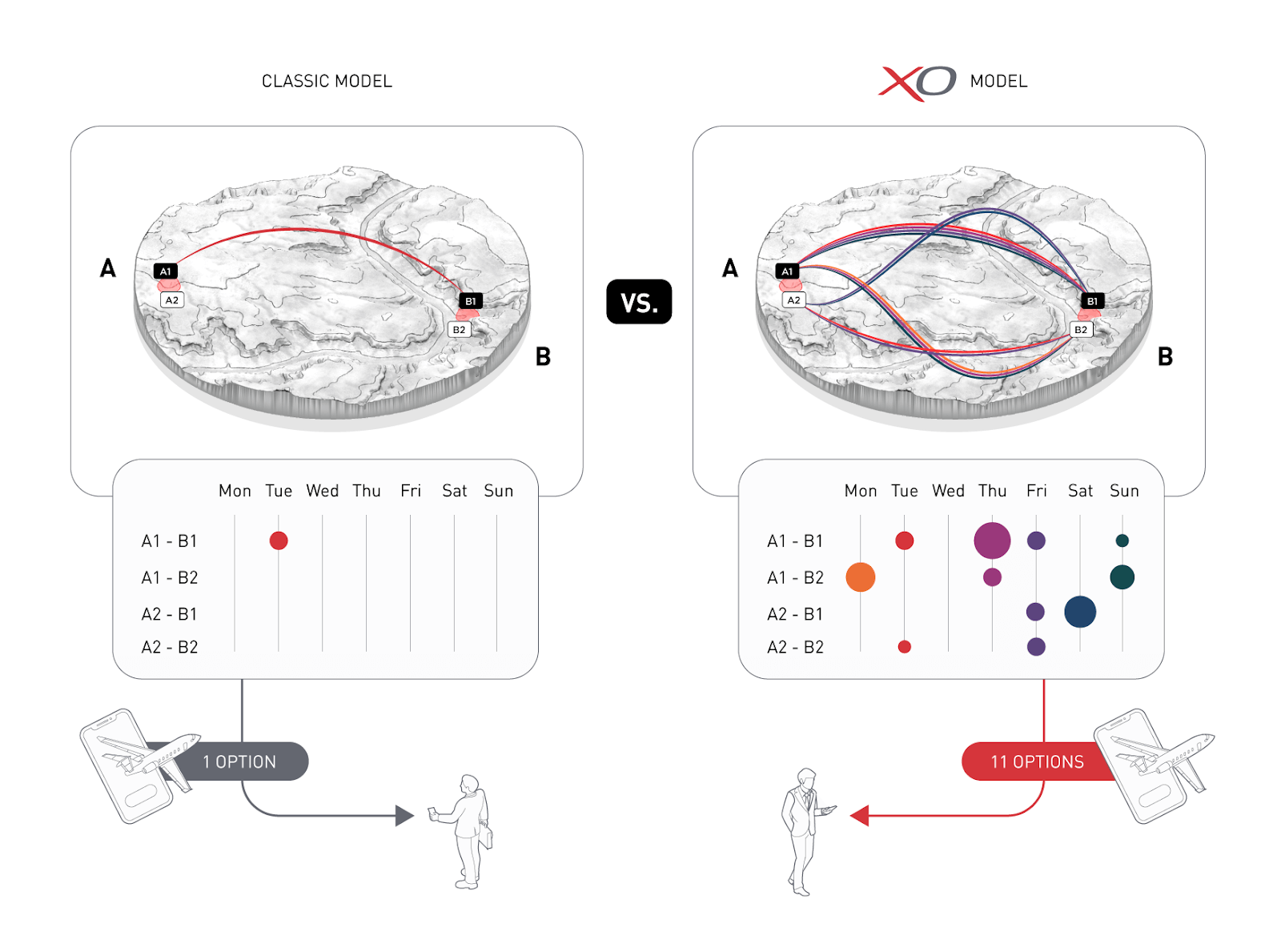 Shared Charter
The sharing economy phenomenon has been growing for more than a decade, mainly spurred by the rapid digitalization and penetration of smartphones; sharing economy platforms have been transforming production and consumption systems in cities worldwide.
The XO platform plays a key role in the sharing economy by providing clients multiple ways to access shared private aviation options, from purchasing a seat on a confirmed flight, initiating a flight for others to join, chartering an entire aircraft, and releasing seats back onto the XO platform.
On average, fewer than three passengers are aboard a private aircraft; XO shared flights address this inefficiency by flying ten or more passengers, increasing seating efficiency. Since 2019, XO has delivered access to more than 30,000 passengers through its groundbreaking shared flight technology powered by data design. In 2021 alone, XO has organized over 1,200 shared flights; each flight had a standard of 14 passengers; this translates into a potential savings of around 36,000 tons of co2 (tco2)*. This revolutionary product allows the existing supply base of private jets to be used more efficiently, increasing availability and reducing costs for clients – on average, XO members and clients save up to 10x by booking a seat vs. a traditional private charter. 
*Calculation based on the assumption that half of those who crowdfunded would have flown private.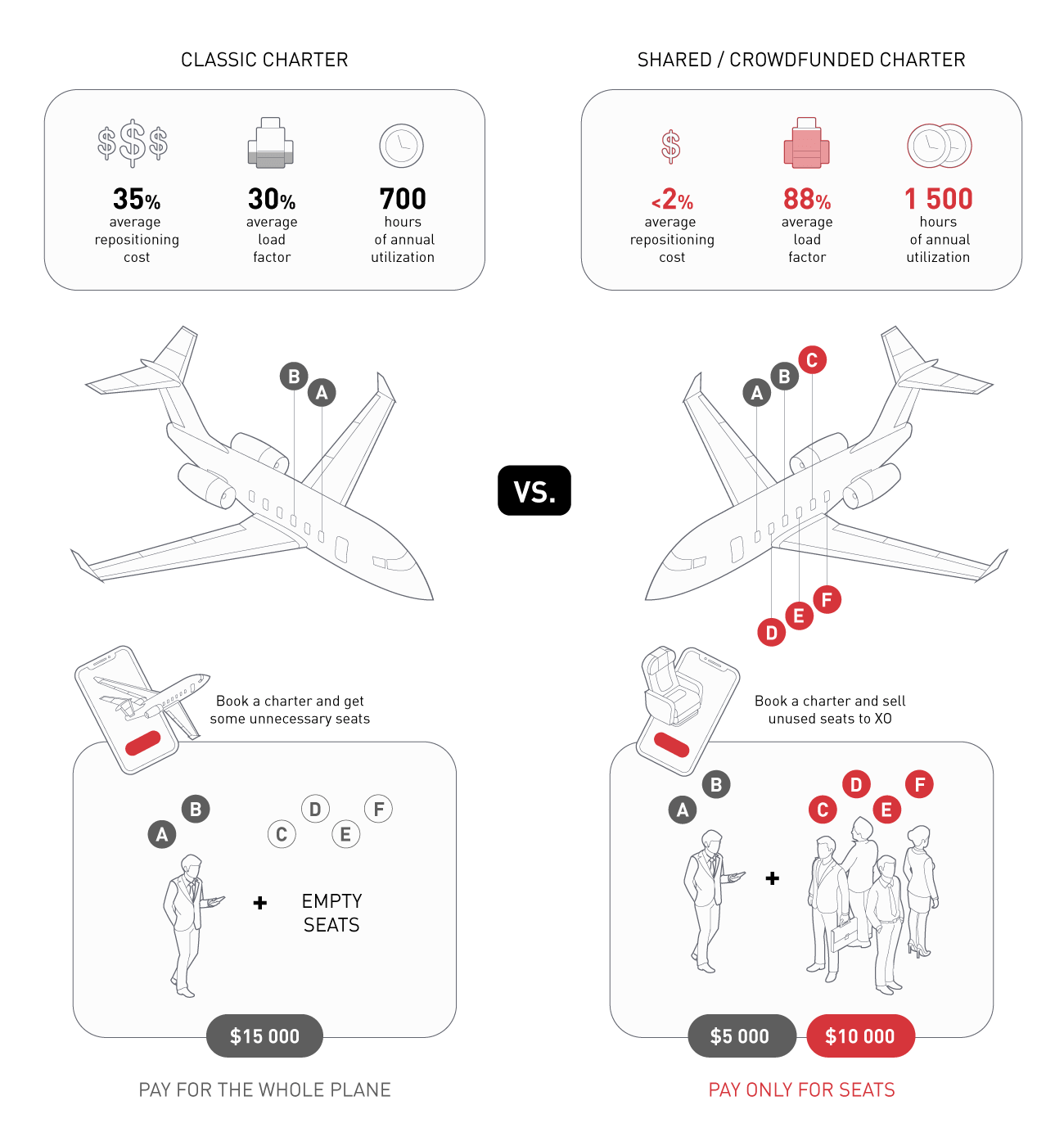 (Illustrates the comparison for a route between New York and South Florida)
Transformational thinkers, innovators, and doers have inspired us to revolutionize private aviation by combining data intelligence with distinct service to allow you to reach anywhere in the world by just reaching for a mobile device.
XO continues to innovate and propel an aviation ecosystem for an open future, more widely available than ever before, transparent, efficient, and more sustainable. XO uplifts forward-looking leaders and movers, helping them make an even more positive impact.
XO Global LLC is not a direct air carrier and does not operate any aircraft. All flights will be operated by properly licensed US or foreign air carriers. Membership is subject to the terms of the applicable Access Membership Agreement.