Back
10 Celebrities Who Regularly Enjoy Flying on Private Planes and Helicopters
Sep 17, 2021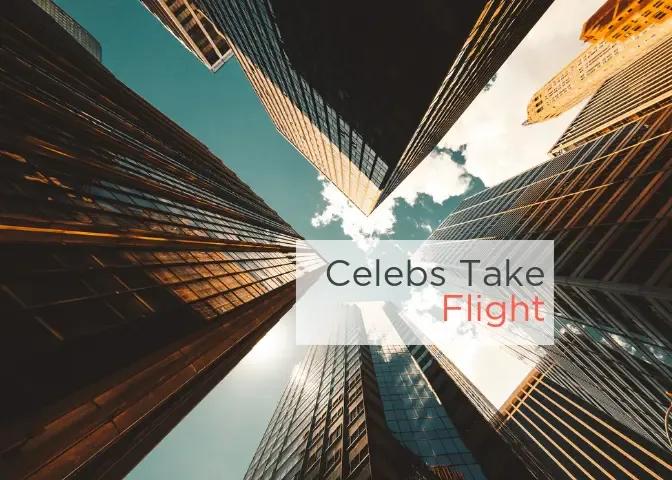 Often, the first thing people think of when they see a private jet taking off or landing is, "I wonder what famous person is on that?"
While it is true that thanks to game-changing apps like XO, you no longer have to be an A-list celebrity to enjoy all of the hassle-free advantages of flying on a private jet, here is a list of celebrities who simply love flying private!
1. Ariana Grande
Grammy-nominated Ariana Grande continues to be a force in the music industry, with her latest hit, "Thank U, Next," staying high on the charts. Ariana's career is flying, and so is she! She often uses a private jet to get to and from her home in Boca Raton, Florida.
2. Cara Delevingne  
At the tender age of 26, Delevinge is a model, singer, and actress. In recent years, she has appeared in movies such as "Paper Towns," "Anna Karenina," Valerian and the City of a Thousand Planets," and "Suicide Squad." Delevingne has been known to enjoy her success by indulging in some ultra-luxury travel. In fact, according to a 2014 report from Telegraph, Delevingne even chartered Karl Lagerfeld's private jet to collect the Model of the Year award from the British Fashion Awards in London.
3. Harrison Ford
Harrison Ford not only pilots the "Millennium Falcon" as Han Solo, in real life, he is an accomplished pilot himself, flying his own aircraft and, more recently, private helicopters.
4. Madonna
Madonna is a big fan of private helicopters. Not only is she still busy as a music industry icon, but as a mom and a Goodwill Ambassador for Child Welfare for the country of Malawi, she sure needs to get around! And when she does, Madonna can often be spotted getting onboard a private helicopter. In fact, according to Just Jared, the music legend once decided to take a helicopter ride to a private island in Brazil with her children.
5. Angelina Jolie
Like Madonna, Angelina Jolie is almost as well-known for her humanitarian pursuits as she is for her celebrity career. And like "The Material Girl," when she has to travel in her capacity as a Special Envoy to the United Nations High Commissioner for Refugees, she prefers to do so via private helicopter.
6. Michael Jordan
Michael Jordan is now as big a player in the business world as he once was on the court. Jordan now owns 90 percent of the Charlotte Hornets; because of that and his deals with Nike, Gatorade, Hanes, and Deck, he is now worth a cool $1.7 billion, according to a report from Forbes. With that level of business dealings and net worth, you wouldn't expect the ex-NBA star to fly commercial, and you would be right. Jordan is the proud owner of a Gulfstream G-IV that has a unique paint job befitting the superstar's taste.
7. Celine Dion
When the award-winning music sensation, perhaps best known for the Titanic theme song, "My Heart Will Go On," needs to get around, it is usually on her own private jet. According to Paramount Business Jets, Dion owns a Bombardier BD-700 Global Express XRS.
8. Taylor Swift
Grammy award winner Taylor Swift's star continues to be on the rise, and with that comes many perks, one of which is never having to fly commercial. Swift reportedly owns a Dassault- Breguet Falcon jet. It is fitted with as many as 12 seats, so her squad can definitely hitch a ride.
9. Dwayne Johnson
Dwayne "The Rock" Johnson is one of the most in-demand action stars there is right now, so it's no wonder that he needs to travel "Fast and Furious" between projects, and that means private jet. Typically, he relies on private jets to get him from point A to point B. In fact, back in 2014, the actor posted a photo on Twitter as he was about to climb onboard a Gulfstream G650. He captioned the photo, "Bound for Beijing on the fastest private jet in the world - #G50."
10. John Travolta
John Travolta, like Harrison Ford, not only enjoys every advantage of private jet travel, he owns and operates his own private jet. According to a report from Beam Aviation, Travolta worked hard to earn a pilot's license and managed to get one when he was only 22 years old. Since then, the actor has become licensed to fly all kinds of planes. These include the Eclipse 500, Gulfstream 500, and even the Boeing 707. In fact, Travolta even lives on the grounds of his own private airport!
You Do Not Have to Be An A-List Celebrity to Fly Like One!
Isn't your time, your convenience, and comfort worth at least as much as any of the celebrities on this list? And, did you know unlike Harrison Ford, Michael Jordan, or Taylor Swift, you no longer have to own your own corporate jet to enjoy all the safety, luxury, and comfort of private air travel?
In fact, did you know that with the XO, you can get guaranteed availability to any number of private jets, all at market-favorable prices?
At XO, we promise you will experience a safe, hassle-free, enjoyable travel experience while getting better value.
If you would like more information about this post or XO Membership, please feel free to contact our team:
Schedule A Call With Our US Team
Schedule A Call With Our EU Team
Schedule A Call With Our MENA Team
These references and links are being provided as a convenience and for informational purposes only and do not constitute an endorsement or an approval by XO of any product, process or service, or its producer or provider. XO Global LLC is not a direct air carrier and does not operate any aircraft. All flights will be operated by properly licensed US or foreign air carriers. All services are subject to the terms and conditions available at flyxo.com/legal/. Fla. Seller of Travel Ref. No. ST