Back
Best Travel Apps to Download Before Your Next Trip
Sep 17, 2021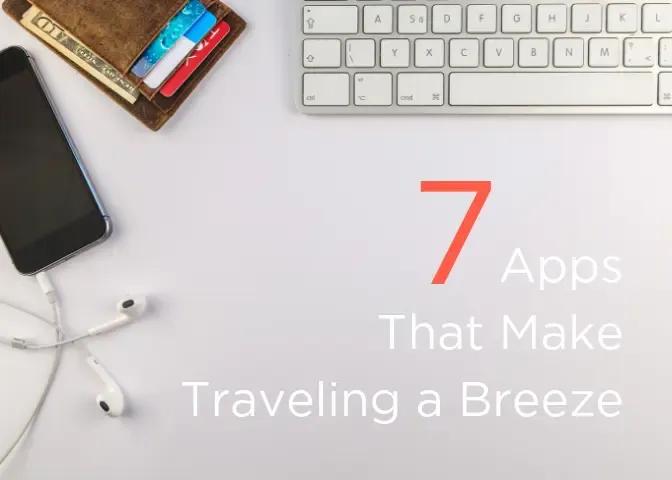 Traveling can be stressful, but there are lots of great apps out there that will help make traveling a breeze! They help with itinerary planning, booking travel, and finding things to do while on vacation.
Here are some of the best travel apps for a seamless, stress-free trip:
1. Google Translate
Heading abroad? If you're heading to a country where you don't speak the language, or at least don't speak it fluently, Google Translate can help! It translates 103 languages via typing and 59 offline. You can type or draw the text on your phone, or simply point your phone's camera at the text you want translated for a quick, instant translation. It's easy to use and will make getting around foreign countries simple! Download for free on the App Store or Google Play Store.
2. Trip
Trip by SkyScanner helps you find the best food, hotels, and entertainment in whatever city you're in. It offers better travel tips than most travel sites. Download for free on the App Store or Google Play Store.
3. GlobeTips
This free app is available on iPhone. If you've ever been to a foreign country and wondered what the tipping protocol is, this app will help you figure it out! It lets you know what the local custom is, and how much you should tip on your bill. Download for free on the App Store.
4. Uber/Lyft
Both Uber and Lyft are free apps and are available on both Android and iPhone. Typically cheaper than a taxi, these rideshare services will save you time, stress, and money. Order a  car from your phone, no matter where you are. Uber is available globally, while Lyft operates solely in the U.S. (for now).  Download for free on the App Store or Google Play Store.
5. Skype
Want to make calls back home when you travel? Or maybe you need to make business calls while you're in town. Skype costs a fraction of what your cell phone company will charge you for an international call. Skype works via WiFi, so you can use your hotel's or the nearest coffee shop's to connect with friends and relatives back home.  Download for free on the App Store or Google Play Store.
6. XE Currency
This popular currency conversion app is free and easy to use. It keeps track of multiple currencies, gives you the current conversion rate, and lets you know if the exchange rate being offered is too high (and even lets you know how much money you will lose if you complete the transaction). This free app can actually save you a lot of money. Download for free on the App Store or Google Play Store.
7. XO
The XO app is free, and it lets you book a private jet throughout the U.S., Europe, and the Middle East right through the private jet app, no phone calls required. It saves you time, money, and hassle. XO allows you to skip crowded airports, long lines, and the stress of commercial flying. Download for free on the App Store or Google Play Store.
When you XO, you are in complete control. Create a flight to any destination across the globe to suit your travel needs. Visit the XO website to find empty-leg flights, shared flights on private jets, or charter to your destination of choice.
Contact one of our Membership Specialists today at +1-888-80-FLY-XO – and don't forget to ask about our promotional deals and membership discounts to your favorite travel destinations.
XO may offer a number of programs, including whole aircraft charter, for which XO will act solely as your agent in arranging the flight, and Public Charters, for which XO will act as principal in buying and reselling the air transportation. XO does not own or operate any aircraft. All flights are performed by FAA-licensed and DOT-registered air carriers.