Back
Book your New Year's travel
Dec 15, 2021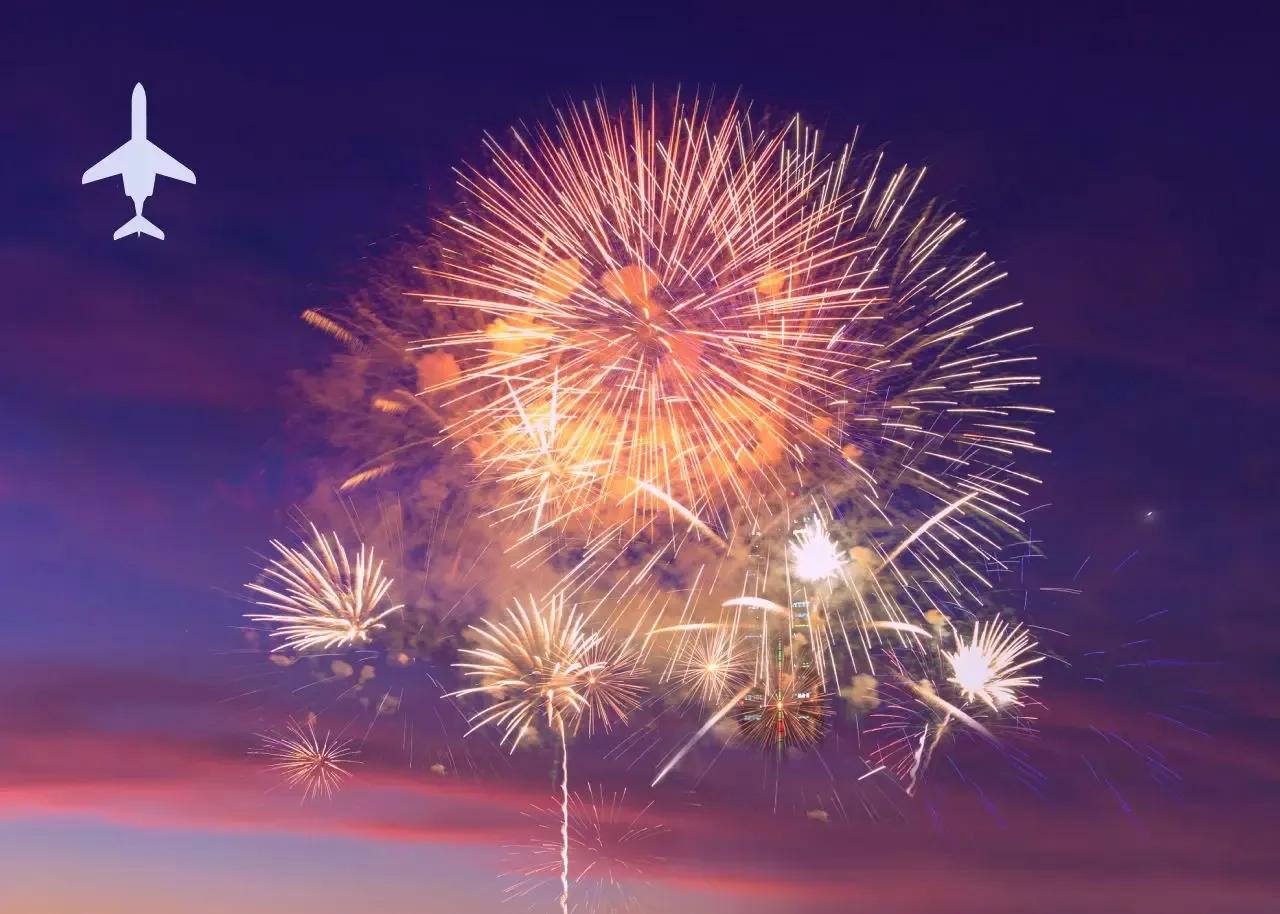 At XO, we have a mission to enable cultural sharing and bring the world closer together.  There's no better time than New Year's Eve to do that – when we all share the same desire to shut the book on 2020 and approach the New Year with buoyant optimism.
Here's a summary of the festivities that will take place in four of our favorite celebratory destinations, all bookable -  as fast as you can say "A magnum of champagne, please"-  on our mobile app.
Paris knows how to do NYE
For the non-French speakers amongst you, all you need to know is that the New Year's Eve celebration is called "Le Réveillon de la Saint-Sylvestre" – named after the patron saint of the new year. Turning to "Le Réveillon," it means "the awakening" -  idiomatically, a night-time celebration, especially a feast. 
Ground zero in Paris, as you might expect, is the Champs-Elysées, which is gleefully turned over to pedestrians on December 31st. Thousands – and we mean thousands – gather to see a laser light show over the Arc de Triomphe.  But don't expect fireworks; a little-known fact is that the city does not permit them, other than on  Bastille Day (July 14th).
Paris Insider's Guide – our reliable, go-to-authority – has put together what we believe is the single best curation of how to ring in the new in the city that never gets old.
 London will not be outdone
We expect the arrival of 2022 to be a celebration that will rock the town, as the full glory of this beloved city will be resplendent. London will be illuminated with brilliant light shows and fireworks; theatres, restaurants, clubs, and shops will be buzzing and bedazzling.
There's so much happening that there's no way we could summarize it, which is why we suggest you dive into this festivity folio from VisitLondon.com. If our arm was twisted and we were asked to point out one thing, we suggest you check out the New Year's Eve cruises on the Thames.  The combination of distance plus intimacy is breathtaking. 
And on the off chance that after celebrating into the wee hours, you have energy left on the morning (or afternoon) after, the legendary New Year's Day Parade – replete with dancers, acrobats, marching bands, historic vehicles, and other exemplars of British quirkiness – is a must-see. 
Dubai – Old and new meet 2022
Dubai is one of the most fascinating places on the planet, where east and west converge and create something that is entirely the city's own. New Year's Eve is the ideal time to discover this electric amalgam, from the world's tallest building – the Burj Khalifa – where the fireworks display boggles the retina, to dinner cruises, helicopter rides, and desert safaris. 
Luxury and style are expressed differently around the world, and in Dubai, it speaks an entirely unique vocabulary. Like with Paris and London, we've done our internet research and found one particular round-up of the most thrilling NYE opportunities in Dubai; it's from TimeOut Dubai and we are delighted to share with you. They call it a city-wide fiesta, and mixed metaphor aside, there is no argument from this quarter.
Caribbean NYE controversy
And the controversy is – which island is the best spot to ring in the new?  We decided to check in with EnchantedHoneymoons; after all, who would know better than the people whose business is romance?
They chose Aruba as their first pick, and Barbados as the second.  Hard to argue.  But we have to admit we were drawn to their #3, Havana. It's a place that really knows how to party. And we know that many of you have a deep desire to discover this remarkable city and its people who exhibit such extraordinary warmth and hospitality. 
Of course, with your smartphone in hand – and our downloaded XO mobile app gracing its screen– you can instantly book one of these destinations. Or, studiously ignore our recommendations and choose another spot on the globe where you can invite 2022 into your life.
But wherever you end up, starting with XO will make it that much better.
To learn more about this post, our Membership Programs, or some of our top flight routes such as New York to Dallas, New York to Bahamas, or New York to Washington DC, please feel free to contact our team:
Schedule A Call With Our US Team
Schedule A Call With Our EU Team
XO Global LLC is not a direct air carrier and does not operate any aircraft. All flights will be operated by properly licensed US or foreign air carriers. Membership is subject to the terms of the applicable Access Membership Agreement.