Back
Create Flights for Less
Sep 17, 2021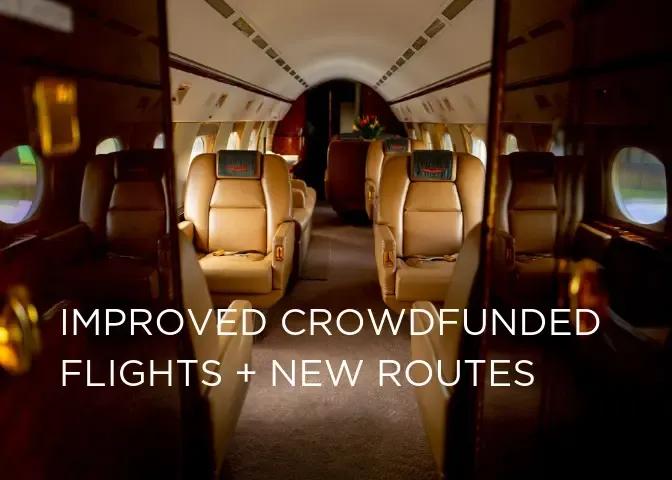 We are thrilled to announce the launch of a new in-app product to make air travel even easier and more affordable. With crowdfunded flights, users will have the option to initiate a flight and choose the date and time of the departure, while the cost can now be equally shared with other flyers. 
 


Historically, flight creators would cover the costs of the flight and would control the departure date and time, allowing flight finders to purchase a seat on existing flights found in the app or on the website. Through the crowdfunded option, both the creators and finders have the opportunity to initiate flights by booking only one seat and can cancel at any time before the flight is confirmed. By lowering the entry-price to create flights down to one seat, all users alike in the XO community can now initiate flights which will lead to infinite flight opportunities.
New Crowdfunded Routes
South Florida
Washington D.C.
South Florida
Boston
New York
Orlando
New York
Naples / Fort Myers
New York
Tampa
Hartford
South Florida
Jacksonville
South Florida
Tallahassee
South Florida
Naples / Fort Myers
South Florida
Boston
Washington D.C.
Both members and non-members can create crowdfunded flights, and up to the confirmation of the flight, they can cancel at no cost. For more information on how to fly with XO, visit www.flyxo.com.
CALL 954-315-0059 NOW OR SCHEDULE A CALL TO LEARN MORE
Crowdfunded flights are non-refundable once confirmed. The number of required seats required to confirm a flight is dynamic and may vary depending on the number of days until the departure date. XO may offer a number of programs, including whole aircraft charter, for which XO will act solely as your agent in arranging the flight, and Public Charters, for which XO will act as principal in buying and reselling the air transportation. XO does not own or operate any aircraft. All flights are performed by FAA-licensed and DOT-registered air carriers.