Back
What Is an Empty Leg Charter Flight?
Sep 17, 2021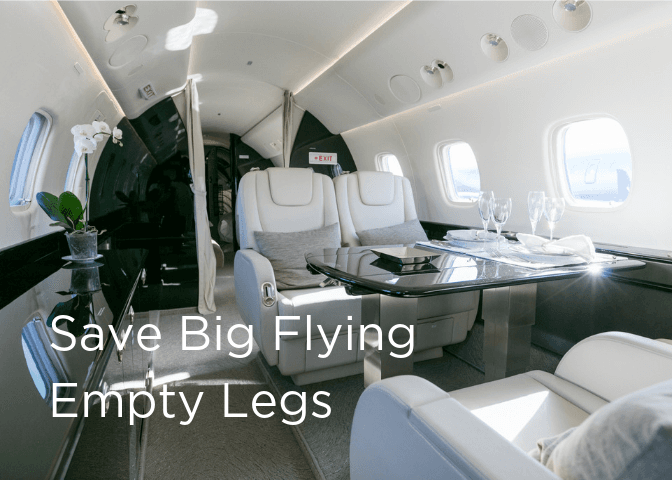 Empty leg charter flights can be a godsend for people looking to book a private jet. What is an empty leg flight? We are glad that you asked!
Suppose a private jet is chartered to fly from Los Angeles to Colorado. Once it arrives in Colorado and its passengers deplane, if the private jet does not have anyone on board when it returns to its home base in L.A. or when it is requested to pick up passengers somewhere else such as Las Vegas, that is what is known as an empty leg.
Now suppose you were in Colorado and wanted to go to L.A. or Las Vegas; why not grab a seat on that empty jet? The aircraft is heading there anyway. So, why not take a passenger or passengers along for a significantly discounted fee?
It is a win-win for you and the charter operator!
What Are the Advantages of Flying an Empty Leg?
In the private aviation industry, "empty legs" may also be referred to as "one-way flights," "empty flights," "dead-heads," "repositioning legs," and/or "ferry flights." But no matter what you call them, they are private jets that would fly without passengers to reposition for a flight or return to their home base. When this happens, seats on these flights could be booked at very deep discounts since most of the costs have already been absorbed during the inbound leg.
Current estimates are that anywhere from 30% to 50% of the private jet charter fleet often flies empty. This means if you have the flexibility, you can find some amazing rates to book flights on empty legs.
There are two downsides to booking a seat on an empty leg charter. One, the empty leg could get canceled anytime if the jet gets booked for another full-priced charter. Two, of course, they are one way, so you would have to find your own way back from your arrival destination. But, still, they can be a great way to fly private if you do not absolutely need to be at a specific place at a specific time, such as for a business meeting.
How to Search for Empty Leg Flights Using the XO App
Originally, one of the great perks of XO Membership was gaining access to our extensive listings of empty leg private flights, some of which have been offered to members for as little as ONE DOLLAR!
But, with our new routes and improved app, you do not even have to be a member to search our available empty leg flights. Simply download the XO mobile app, and search "Jet Deals," and you can find empty leg flights for as little as $120.00 per seat.
We are creating a better way to fly private, even on regularly scheduled routes and not only empty leg deals.
Our on-demand solution has completely revolutionized the private aviation experience. It provides guaranteed availability on anything from a full private jet charter to a single shared seat on an existing flight -- on any available class of jet -- all at competitive, market-favorable prices.
It is truly a revolution in private aviation.
If you would like more information about this post or any of our Membership Programs, please feel free to contact our team:
Schedule A Call With Our US Team
Schedule A Call With Our EU Team
Schedule A Call With Our MENA Team
These references and links are being provided as a convenience and for informational purposes only and do not constitute an endorsement or an approval by XO of any product, process or service, or its producer or provider. XO Global LLC is not a direct air carrier and does not operate any aircraft. All flights will be operated by properly licensed US or foreign air carriers. All services are subject to the terms and conditions available at flyxo.com/legal/. Fla. Seller of Travel Ref. No. ST