Back
Getting to know your flight crew
Mar 21, 2022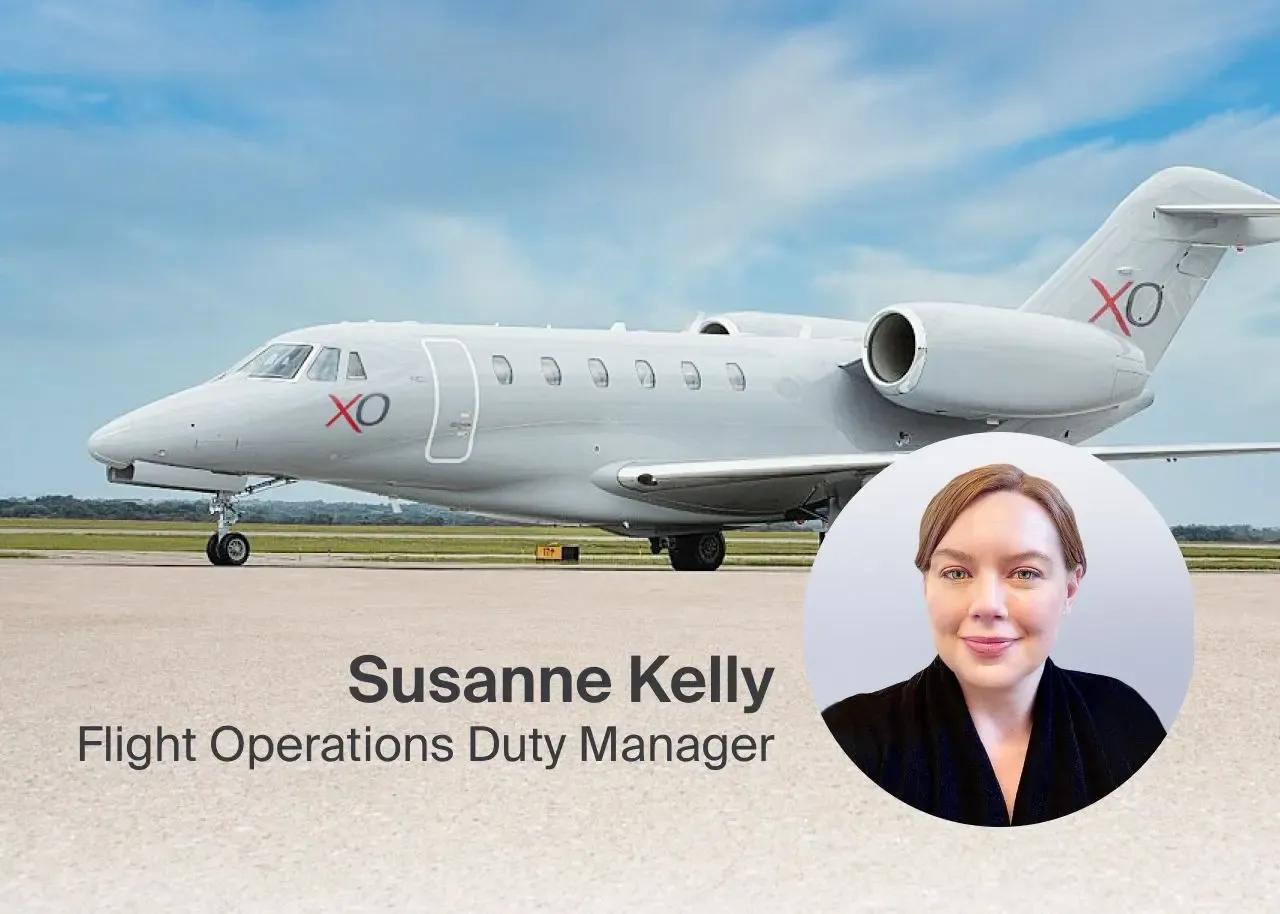 The pilots that fly the aircraft in the Vista Members' fleet (formerly the XO Dedicated Fleet) do so much more than get our flying community safely from one location to another; they forge meaningful relationships with our XO Members and clients, creating lasting connections beyond the jet. One such pilot is Susanne Kelly, who is currently serving as Flight Operations Duty Manager and has been with our operating partner, XOJET Aviation, for over a decade. As Women's History Month comes to a close, we sat down with Susanne to discuss, among other topics, what awakened her interest in aviation, how she feels female pilots fit into the industry and the new group of travelers who are experiencing XO. 
XO: Hi, Susanne. Please give us some background on your history, your flight experience as a pilot, and how you landed at XOJET Aviation.
Susanne: I always knew I wanted to be a pilot. I studied math and science in high school and went to Embry-Riddle Aeronautical University. After I graduated, I went back to Oklahoma City to flight instruct for a couple of years. Then in 2005, I was hired by AirNet, a freight company, and I flew as a single-pilot. I then upgraded to the Learjet and flew Learjets for four years.
When I was based at Teterboro, I met a pilot that flew for XOJET Aviation. I learned they were hiring, and the rest is history. My career at XOJET has been fantastic. I'm very grateful.
XO: What are some of the aspects that you enjoy most about flying charter?
Susanne: The destinations are amazing. It's different, exotic, hard-to-get-to destinations. Every day is different. That's what is unique; it's not just one client. The personal interactions between the crew and the clients are rewarding. Being able to connect with XO Members and clients, communicate with them about the safety of the flight, reassure them, and help them with their needs; that is what is super rewarding.  
XO: What have you seen with the crowdsourcing feature and the ability to instantly search for and book a private jet?
Susanne:  We have a demographic of new flyers, which is important. There are so many young entrepreneurs that have a lot of economic influence, but unless they were already in a fractional airline club, they might not know how to easily book a private jet. Everything at XO is tech-forward, streamlined, and seamless.  
XO: Are you seeing a lot more women coming into the industry?
Susanne: Yes, and it is great that we have so many female pilots and that XO and XOJET Aviation participate in events such as the Women In Aviation conference every year. It is a powerhouse for networking and meeting candidates. Not only do XOJet Aviation's pilots need to have an excellent record and good experience, the secret that makes our pilot culture so impressive is the approach to customer service. Some of our most successful pilots are women.  
XO: Before we wrap, do you have any additional thoughts? 
Susanne: Travel is the best education; learning about other cultures, meeting people, and even if we speak different languages or call different places home, 99.9% of everything we care about is the same. So to be able to help people travel, to see firsthand all these truths and the different beautiful parts of the world, there's nothing better.
XO: It's a perfect note to leave it on. Thank you.
To learn more about this post, our Membership Programs, or some of our top flight routes, such as Los Angeles to New York, New York to Aspen, or Boston to New York, please feel free to contact our team:
Schedule A Call With Our US Team
Schedule A Call With Our EU Team
XO Global LLC is not a direct air carrier and does not operate any aircraft. All flights will be operated by properly licensed US or foreign air carriers. Membership is subject to the terms of the applicable Access Membership Agreement.