Back
A Local's Guide to a Long Weekend in Miami
Sep 17, 2021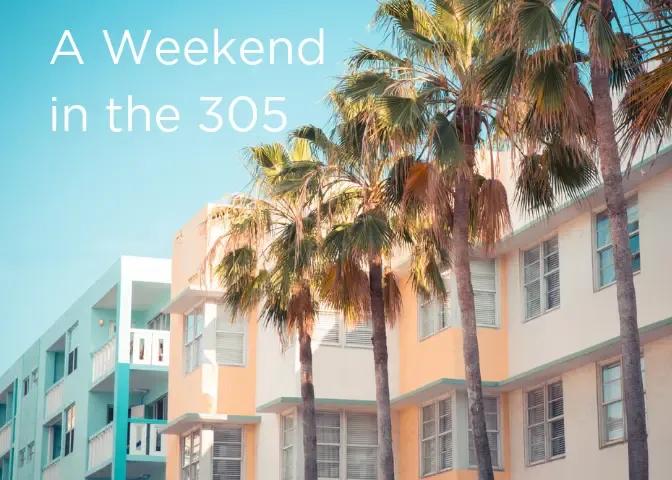 In the landscape of popular vacation destinations, Miami shines bright, beckoning travelers from across the globe with its trendy nightlife, illustrious beaches, world-class dining, and other enticing attractions.
XO has opened the door for affluent travelers to easily escape on a private jet to the cultural center of South Florida for a long weekend that balances rest and rejuvenation with excitement, activity, and savoring the city like a local.
After enjoying the luxuries of private aviation with a Miami jet charter, travelers will land at Miami-Opa Locka Executive Airport—a mere 11 miles north of downtown Miami—ready to take on the dynamic, coastal destination.
The first order of business, after arriving by private jet to Miami, is checking into the Ritz-Carlton Coconut Grove. This popular hotel recently received an extensive makeover that injected a Bohemian touch into the hotel's furnishings, adding gold accents and locally sourced art.
After settling in and getting refreshed, it's time to head to highly rate Palme d'Or, situated within the architecturally pleasing Biltmore Hotel. Regarded as one of Miami's finest dining destinations, Palme d'Or features sleek, modern décor and impeccable service. Diners can feast on a variety of elegant French dishes, wines and delectable desserts.
The next morning, spend a pleasant morning at the hotel's sun-soaked pool deck, surrounded by sumptuous verdant landscapes. The pool area includes flat-screen televisions, a dining gazebo, and four VIP poolside cabanas for luxury relaxation. When the hunger arises, enjoy light fare from the Poolside Café.
In the afternoon, rent a convertible and cruise down Ocean Drive, enjoying the enchanting sites offered by the high-end suburbs of Coral Gables and Coconut Grove. Coconut Grove, Miami's oldest continuously inhabited neighborhood, is filled with new retailers, boutique shops, and art galleries—also perfect for exploring on-foot.
Finish the night with a luxury casino cruise, which takes off from the port of Miami. Experience the thrill of Las Vegas at sea with plenty of gaming options. Many cruises also include a complimentary buffet and satisfying cocktails for an exclusive night of fun.
The following day, rejuvenate from the festivities of the previous night with a satisfying Sunday brunch at Amara at Paraiso, Michael Schwartz's fairly recent newcomer to the Miami dining scene that serves upscale Latin fare in an idyllic bayside setting. Brunch consists of both savory and sweet dishes, including pork belly feijoada and streusel-topped brioche pastry smothered with dulce de leche. Sip on brunch cocktails and enjoy views of the breathtaking Biscayne Bay.
In the afternoon, hit the green at one of Miami's highly exclusive golf courses. Southeast Florida has a reputation for great golf. Among the most prestigious golfing destinations is the Red Tiger Course, formerly known as Red Course, at the Trump National Doral Miami. The Red Tiger is only one of five immaculate 18-hole courses at the resort, however, and each course offers unique challenges for golfers of every skill level.
A trip to Miami wouldn't be complete without feasting on delicious local seafood. Since opening in 1913, Joe's Stone Crab has become an iconic part of Miami's culinary scene that is often visited by celebrities, sports figures, and politicians. Diners can taste some of the finest stone crab in Miami, along with other regional seafood.
Finish the evening with a visit to the glamorous Wall Lounge, with light shows on the walls and performances by world-famous artists and DJs, or indulge in another Miami tradition and make new acquaintances at Casa de Montecristo by Prime Cigar & Whiskey Bar in Brickell-Miami.
Miami is the ideal weekend getaway destination for dining connoisseurs, outdoor enthusiasts, and relaxation lovers alike, and the vibrant city is now all the more accessible, thanks to XO's convenient mobile community for shared and private flights, through which travelers can charter a jet to Miami.
Contact one of our Membership Specialists today at +1-888-80-FLY-XO – and don't forget to ask about our promotional deals and membership discounts to your favorite travel destinations.
XO may offer a number of programs, including whole aircraft charter, for which XO will act solely as your agent in arranging the flight, and Public Charters, for which XO will act as principal in buying and reselling the air transportation. XO does not own or operate any aircraft. All flights are performed by FAA-licensed and DOT-registered air carriers.