Back
Is the Return of Supersonic Passenger Flights on the Horizon?
Sep 17, 2021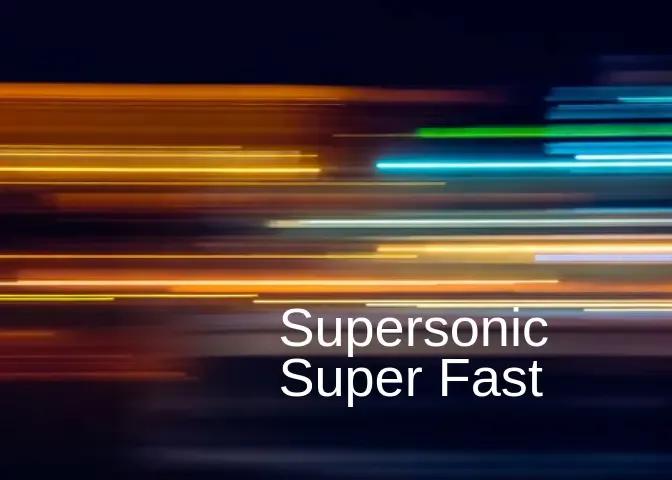 In the 1970s, the French-British Supersonic Transport (SST), the Concorde, was for a time considered to be the crowning achievement in the history of commercial aviation.  Able to fly at top speeds of over Mach 2, it covered transatlantic flights -- such as from New York to London -- in under four hours!
The Concorde was flown by Air France and British Airways for over 20 years, but the glorious plane was eventually grounded due to the issue with sonic booms, and other environmental concerns.
At the recent Paris Air Show, a start-up American company, Boom Technology, promised a return to those glory days of commercial supersonic air travel, without the subsequent environmental issues.
Boom Technology is working on an aircraft known as "Overture," a supersonic commercial plane that is being hailed as the "Concorde 2.0."
As well as promising speeds that rival its SST predecessor, Boom is also vowing to make the Overture accessible for a wide range of travel between Europe and the US.
Lasting less than three and a half hours, a flight on a Boom Overture plane from London to New York would also cost as little as a ticket in business class on a traditional airline.
How Soon Might Flights On The Overture Be Available?
The big question is how soon will supersonic commercial air travel on the Overture become a reality? Boom's CEO Blake Scholl answered that question and more at the Paris Air Show 2019.
"The most important thing is that we complete the testing phase and move onto the assembly phase, said Scholl at the Show. "This means that we'll present our finished aircraft later this year and the first flight will take place in 2020."
Scholl added, "Of course [in light of the recent 737 MAX disasters] safety should always be more important than the deadlines wherever there's conflict between the two."
The aircraft will use an unprecedented technology, that will be able to convert atmospheric CO2 into aviation fuel, which will result in the Overture being close to a net zero emissions aircraft.
A New Experience for a Better World
Scholl says that passengers onboard Overture can expect an experience as unique as the aircraft upon which they are flying. "We want to offer a business class travel experience. Large windows are important — passengers are going to be traveling at a height of 11 miles, so we want them to be able to see the curvature of the Earth, the endless blue of the sky — it's going to be amazing."
Scholl believes that providing greater access to supersonic commercial air travel is path to a better world. He said, "there hasn't been a single global conflict since we entered the era of passenger jets. Of course, I'm not insinuating that flight was solely responsible for bringing about world peace, but it can't be ignored that flight has made the world a much smaller place — it has brought mankind much closer together and has clearly affected our relationships with one another."
It's Not Only Supersonic Jets That Are Making Flying Private Faster
While it's true the eventual return of supersonic civilian aircraft could make private jet travel speedier, there is something available right now that is making how you book a private flight faster than ever!
The acquisition of XO by Vista Global Holdings is now complete. The launch of XO marks the beginning of a new world for all private aviation customers. Built by combining the trusted operational and customer- centric expertise of XOJET with the speed and convenience of technology originally developed by XO, the new brand will provide elevated services for On Demand private jet travel.
Welcome to XO, now more than ever putting more of the world at your fingertips!
If you would like more information about this post, or any of our programs, please feel free to contact our team at +1-888-80-FLY-XO or schedule a call.
All shared flights are Public Charters organized by XO Inc. under 14 CFR 380. A pending crowdfunded flight will be confirmed and guaranteed only if the required minimum number of seats is purchased. The minimum number of seats required is dynamic and may vary depending on the number of days until the departure date. The identity of the properly licensed air carrier performing the crowdfunded flight will be disclosed once the flight is confirmed.