Back
What's New in Private Aviation
Sep 17, 2021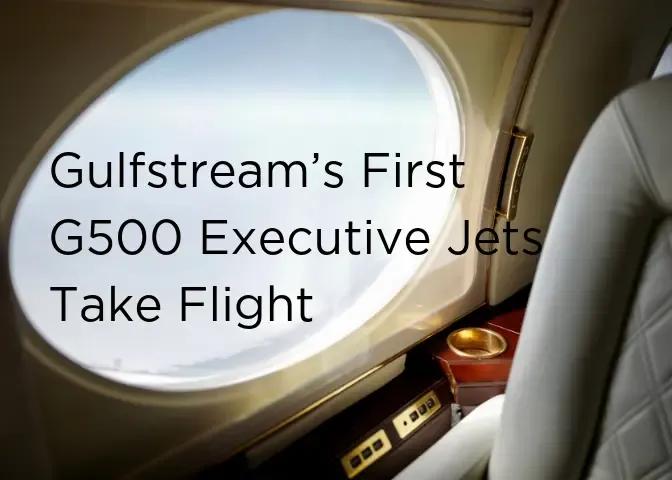 The long awaited, all new Gulfstream G500 executive jet has made her inaugural flight by a commercial operator. According to the manufacturer, "every aspect of the all-new Gulfstream G500's design and performance is dedicated to the fastest flight possible, while in the cabin, every detail is devoted to providing a uniquely personalized and completely comfortable interior."
According to the Gulf Times, on January 14, the first of two G500s, which were delivered in December to the private jet charter division of Qatar Airways Group, took off on her maiden flight.
Speaking to the Times, Qatar Airways Group chief executive, HE Akbar al-Baker said, "Our new G500 jet will offer a remarkable flying experience to many of our loyal passengers who are already keen on experiencing this ultra-modern jet. With two of these technologically-advanced aircraft in our fleet already, we are excited to be receiving an additional five G500s, to offer our passengers much more of an elite choice and flexibility."
The new jets represent the "fastest and most advanced aircraft types in the Qatar Executive fleet. These state-of-the-art jets set a new industry benchmark by offering one of the quietest cabins, as well as having the best cabin altitude pressure, allowing for unparalleled passenger comfort" al-Baker added.
More About This New Private Jet
According to Gulfstream, the G500 is powered by the next generation Pratt & Whitney Canada PW800 engines, which have been optimized for high-altitude, fast and long-range travel. In addition to being one of the most efficient jets in the industry, the aircraft's remarkable range makes it capable of traveling non-stop from Istanbul to Cape Town, Los Angeles to London; and San Francisco to Tokyo.
Other luxuries and amenities include satellite communications, high-speed Internet, the Oryx One entertainment system, a wireless local area network, and Gulfstream's Cabin Management System, which allows passengers to use their own personal electronic devices to control audio, video, lighting, temperature, window shades, and other cabin functions.
Fly the Most Advanced Luxury Private Jets Any Time
You do not have to travel to Qatar if you want to experience state-of-the-art luxury in private air travel. We may not have access to operators of the brand-new Gulfstream G500 yet, but we have many other flights available by operators of similar and equally swift and luxurious aircraft, such as the Gulfstream IV-SP. 
If you would like more information about this post or any of our programs, please feel free to contact our team at +1-888-80-FLY-XO.
XO may offer a number of services, including whole aircraft charter, for which XO will act solely as your agent in arranging the flight, and Public Charters, for which XO will act as principal in buying and reselling the air transportation. XO does not own or operate any aircraft. All flights are performed by FAA-licensed and DOT-registered air carriers.