Back
The World's Best Luxurious Eco-Friendly Resorts
Sep 17, 2021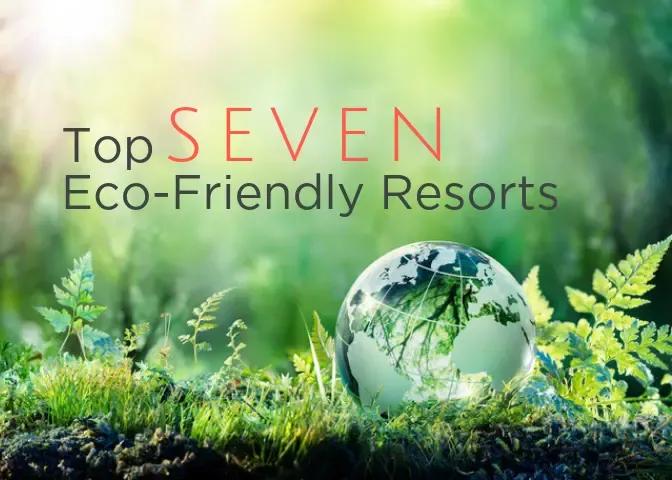 There are several occasions when the drive to be environmentally conscious can interrupt the desire for convenience and comfort. Traveling, however, is not one of them.
Vacationers can show respect for Mother Earth while enjoying luxurious travel – or in other words, have their cake and eat it, too – by choosing to fly on a private jet to one of the magnificent and eco-friendly resorts located across the globe. If that sounds like a dream come true, check out one of these top destinations that prioritize both pampering their patrons and conservation efforts:
1. Soneva Fushi
The original desert island hideaway in the Maldives, Soneva Fushi boasts lavish multi-room villas – some of which were built to resemble treehouses – tucked among dense foliage on a private island. The resort has nearly perfected a balance between sustainability and luxury in numerous ways: possessing one of the largest solar power plants in the Maldives, sourcing local food as much as possible, recycling waste materials, and upcycling the Maldives' waste glass into artwork at resort's Glass Studio.
2. Alila Villas Uluwatu
Perched on limestone cliffs above the Indian Ocean in Bali, the Alila Villas Uluwatu offers an exceptional island escape. The resort is known not only for a range of leisurely activities, such as exploring the Uluwatu Temple, golfing, and enjoying live entertainment, but it also received the highest level of certification from EarthCheck for its eco-friendly efforts.
3. North Island
North Island Seychelles is a private island resort that has been frequently recognized for its exclusivity, services, facilities and experiences. However, the resort's Noah's Ark project is also aimed at restoring the island's natural habitat and already many indigenous wildlife species have made a reappearance as a result.
4. Hotel Tropico Latino
Located in Santa Teresa, a spectacular white sand beach on Costa Rica's Nicoya Peninsula Blue Zone, the Hotel Tropico Latino is surrounded by lush tropical gardens that support a variety of colorful wildlife. The resort also boasts an outstanding beachfront restaurant and numerous opportunities for surfing, practicing yoga, and indulging in spa activities. However, the resort also uses only environmentally-friendly bathing and cleaning products and transforms waste from the on-site restaurants into fertilizer, among other eco-conscious practices.   
5. Six Senses Qing Cheng Mountain
Established to complement the UNESCO World Heritage & Natural Cultural site nearby Dujiangyan, China, Six Senses Qing Cheng Mountain incorporates regional architecture and landscaping, enveloping a deep sense of peace and unity. The resort also has been recognized for its eco-friendly spa treatments and therapies and features app-controlled lighting and air-conditioning, organic gardens, and a robust recycling system.
6. The Bushcamp Company
Travelers can get even closer to nature in a tangible way by "glamping" at one of the six exclusive Bushcamps in the remote and unspoiled regions of Zambia's iconic South Luangwa National Park. Each secluded, intimate camp possesses a distinct character built around its unique natural setting. The tents also feature solar-powered water-heating systems, power, lighting, and water pumps.
7. The Brando
Located on the breathtaking private island of Tetiaroa in French Polynesia, the Brando is a unique luxury resort that is both carbon neutral and close to self-sustainable. The resort captures the idea of "all-inclusive," offering a spa and wellness center, an organic garden, a lagoon-view bar, a beach bar, a tennis court, boutique shops, a library and cultural center, and an environmental research station, complete with guest programs.
Private Flying and Eco-Friendly Travel
Thanks to the growing emphasis on conservation efforts and environmentally-kind practices, travelers are sure to find a luxury resort that satisfies both their desire for extravagant travel and their responsibility to protect Mother Earth. To access one of these exotic and exclusive locations, explore XO's instant charter options for private aviation to the top destinations around the world. 
XO may offer a number of programs including whole aircraft charter, for which XO will act solely as your agent in arranging the flight, and Public Charters, for which XO will act as principal in buying and reselling the air transportation. XO does not own or operate any aircraft. All flights are performed by FAA-licensed and DOT-registered air carriers.