Back
XO Earns 2022 Great Place to Work Certification™
Jul 6, 2022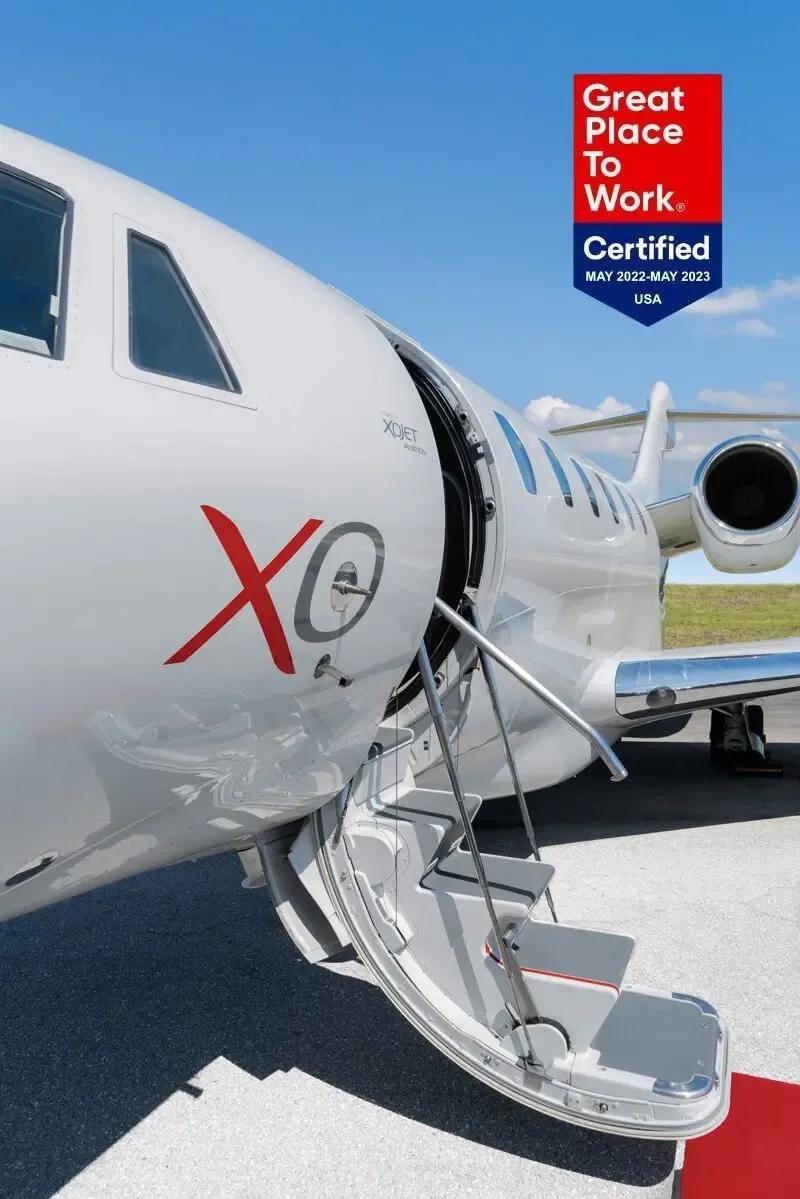 The South Florida-Based Private Aviation Company Announces Great Place to Work Verification 
XO, a private aviation company revolutionizing the industry through innovation and technology, is proud to be Certified™ by Great Place to Work®. The prestigious award is based entirely on feedback and insight from current employees regarding their experience working at XO. As a result, 75% of employees said it's a great place to work – 57% higher than the typical U.S.-based company.
Great Place to Work® is the global authority on workplace culture, employee experience, and the leadership behaviors proven to deliver market-leading revenue, employee retention and increased innovation.
"Great Place to Work Certification™ isn't something that comes easily – it takes ongoing dedication to the employee experience," said Sarah Lewis-Kulin, vice president of global recognition at Great Place to Work. "It's the only official recognition determined by employees' real-time reports of their company culture. Earning this designation means that XO is one of the best companies to work for in the country."
 "We are beyond thrilled to now be Great Place to Work-Certified™ as we continue to prioritize our employee experience and make XO an enjoyable, productive and educational environment for all," said Michelle Bauman, Chief Human Resources Director at XO. "Over the last several years, we've seen a massive influx in demand for private travel, and our dedicated employees have been committed to driving the industry forward and making private aviation more accessible, transparent and efficient while encouraging an innovative and entrepreneurial spirit across the company. We celebrate and thank them for all they do to earn this great recognition, and we're excited to continue to evolve as a strong player in the future of private aviation." 
Stemming from the Great Place to Work® results, 82% of XO employees are proud to say they work at the company, while 87% boasted that it is an enjoyable work environment. As such, over the last year, XO has seen over 30% growth in new employees, with a prediction of 34% increase for the company throughout 2022. The team is actively hiring leaders and entrepreneurs to support its mission of leveraging technology and data analytics to continue to elevate the ever-changing industry. Based in South Florida, where a strong tech hub has emerged in recent years, XO is a tech-forward aviation company that's evolving the way private jet travelers can fly by providing instant access, guaranteed pricing and the ability to book on-demand flights. 
XO is a company that cares deeply about their people and welcomes positive, committed, and talented individuals to join their team as they continue to build the world's largest On Demand marketplace for private aviation.
According to Great Place to Work research, job seekers are 4.5 times more likely to find a great boss at a Certified great workplace. Additionally, employees at Certified workplaces are 93% more likely to look forward to coming to work, and are twice as likely to be paid fairly, earn a fair share of the company's profits and have a fair chance at promotion.
XO IS HIRING
Looking to grow your career at a company that puts its people first? Visit XO's careers page at: https://flyxo.com/careers/ 
 About XO
XO is part of Vista, the world's first private aviation ecosystem, integrating a unique portfolio of companies offering asset-light flying solutions to cover all key aspects of private aviation. With experience flying to 187 countries – representing 96% of the world – the Vista group of companies completes over 70,000 flights and serves over 150,000 passengers annually. The Vista group-owned and managed fleet of 360 aircraft is suited to diverse flight duration, trip, and passenger requirements, backed by the knowledge and expertise of an international team, delivering the best end-to-end service to any private aviation customer. In addition to the group-owned and managed fleet, the safety-vetted XO Alliance Network gives customers access to 2,100+ aircraft globally, covering the full spectrum of cabin classes.
About Great Place to Work Certification™
Great Place to Work® Certification™ is the most definitive "employer-of-choice" recognition that companies aspire to achieve. It is the only recognition based entirely on what employees report about their workplace experience – specifically, how consistently they experience a high-trust workplace. Great Place to Work Certification is recognized worldwide by employees and employers alike and is the global benchmark for identifying and recognizing outstanding employee experience. Every year, more than 10,000 companies across 60 countries apply to get Great Place to Work-Certified.
About Great Place to Work®
Great Place to Work® is the global authority on workplace culture. Since 1992, they have surveyed more than 100 million employees worldwide and used those deep insights to define what makes a great workplace: trust. Their employee survey platform empowers leaders with the feedback, real-time reporting and insights they need to make data-driven people decisions. Everything they do is driven by the mission to build a better world by helping every organization become a great place to work For All™.
Learn more at greatplacetowork.com and on LinkedIn, Twitter, Facebook and Instagram.